20 tons per day Organic fertilizer production line for Malaysia.
Here is an organic fertilizer production line with capacity 20 tons / day. It is designed by our professional for our Malaysian customers. Now, let us take a look at the details of this organic fertilizer production line. If you also want to have your own fertilizer production line, you can contact us.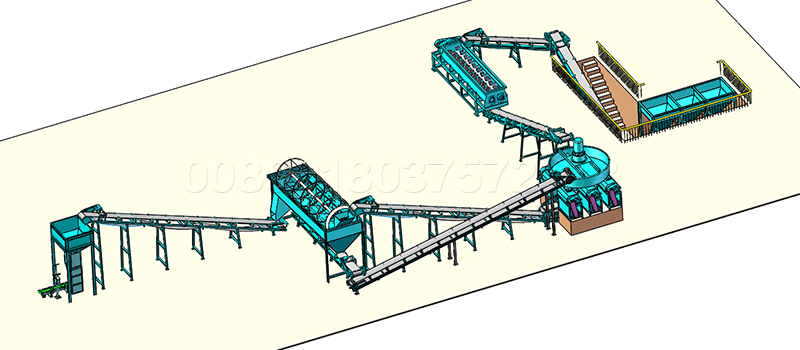 What raw materials do our Malaysian customers want to use to produce organic fertilizer?
In the email, our customer mentioned that they want to set up a new organic fertilizer plant. And the raw materials that they plan to use are saw dusk, manure and powder clay for manufacturing fertilizer in their fertilizer factory. In addition, they hope the fertilizer equipment is automatic and can process 20 tons organic fertilizer per day.
What can we offer to our customers? – an organic fertilizer production line with 20 t/d.
Main machine in organic fertilizer manufacturing process for Malaysian customer.
For our Malaysian customers, our professional team designed a 20 tons/day organic fertilizer production line for them. The machines are as follows:
Windrow type compost machine: The machine is used to dispose manure into organic fertilizer. And it is the most economical mode of saving soil and human resources at present.
New type vertical crusher: The grinder is a kind of adjustable crusher without screen cloth. And it has strong application and is not easy to block, especially for high moisture materials.
Fertilizer mixer: The mixer is specially used for the mixing of organic matter, such as manure, saw, fiber, etc.
Silo hopper: 1.5 m * 1.5 m cache silo mainly includes a silo with a vibration motor and a feeding belt conveyor. Then the frequency converter is used to control the feeding of the belt conveyor at the lower part of the silo.
Double roller extrusion granulator: Because the Malaysian customers don't want round fertilizer pellets, we provide the double roller granulator for them. And they can use the pelletizer to produce pill shape, flat ball shape and other shapes fertilizer.
Rotary screening machine: After granulating, you can sieve your fertilizer pellets. And the machine can sieve various solid materials with particle size less than 300mm.
Belt conveyors: We also have belt conveyors for build fertilizer production lines. And our conveyors all use corrosion-resistant rubber material.
Main machines parameters.
| | | | | | | |
| --- | --- | --- | --- | --- | --- | --- |
| Main Machines | Model | Powder (HorsePowder) | Capacity | Materials particles (mm) | Dimensions (mm) | Note |
| Crawler type compost turner | SXLDF-2800 | 123 | 1200-1500 m3/h | 250 | – | Windrow composter |
| New type vertical crusher | SXFLF-800 | 30 | 5-8 t/h | – | 1800*1020*2100 | Grinder |
| Fertilizer mixer | SXSJ-1050 | 22 | 10-15 t/h | – | 6200*1300*1200 | Blender |
| Rotary screener | SXGS-1030 | 3 | 2-3 t/h | 3-5 | – | Screener |
| Double roller granulator | SXDG-2T | 22 | 2 t/h | 3-8 | 1630*850*1650 | Fertilizer pelletizer |
What other details do our customers have for the organic fertilizer production line?
Customized fertilizer machines color. The Malaysian want to buy red fertilizer machines, so we customize the complete red fertilizer machines for them. If you want to other color, you can contact us to paint color as your requirements, same price.
Fertilizer pellets type. Generally, the fertilizer granules we produce are round, but this Malaysian customer wants to produce granules of other shapes. So our senior engineers recommended that they buy a twin-roll granulator that can produce multiple shapes. If you also want to produce fertilizer pellets in other shapes, you can consult us.
Transport. Regarding transportation, the nearest port to us is Qingdao, but we will solicit customer opinions and negotiate transportation matters together.
What is the most problem of the machines? No special wearing-part. Remember to give grease regular, everything will be ok.
Other customers. Our equipment has been sold to many countries already, such as India, Australia, Zimbabwe, Ukraine, Russia, Uzbekistan, Indonesia, etc.
Good service for our customers.
Free to install and debug fertilizer equipment. (Anyone will come to set the machine?) We will assign our engineer to your site to direct installation.
Train. And our engineer will train your people how to operate and maintain the machines, and even after our engineer left, your people meet some question, we can remote or direct your people by video.
12 months warranty. After you receive the device, if there is a product problem within 12 months, you can contact us and we will solve your problem as soon as possible.
If you want to set up your own organic fertilizer plants to dispose manure or other organic waste, welcome to contact us. We have professional teams to provide you right solutions.