High output rotary granulator for sale.
Are you looking for a granulator for compound fertilizer production line? The rotary granulator produced by our company will be your best choice. Our rotary drum granulator is a molding machine that can make materials to a specific shape, and it is considered as the key equipment in the production of compound fertilizer. Not only you can use rotary granulator to produce compound fertilizer, but also it can be used in the organic fertilizer production lines. In addition, you should know that our rotary fertilizer pelletizer uses the wet granulation method. If you need other types granulators, you can leave your information, or contact us directly.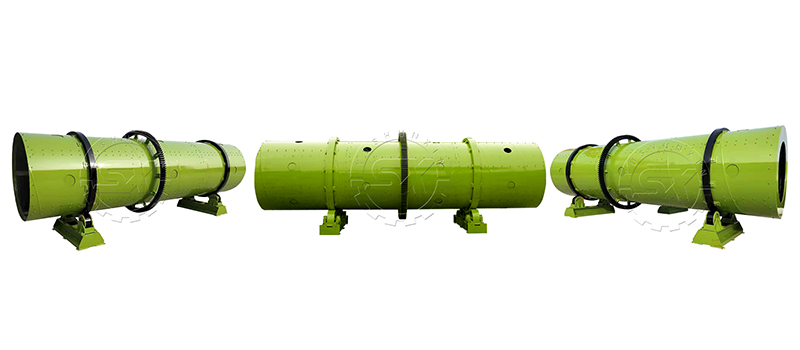 5 special designs of rotary granulator.
Our rotary drum granulating machine adopts advanced technology and special design. The whole machine can be divided into five parts, the rotary drum, the Motor and decelerator, the large ring gear and small gears, the bracket part, and the roller belt. You can learn more about from the following content.
Big drum. The shape is a beautiful large cylinder. Inside the granulator, we use rubber liners or acid-resistant stainless-steel liners. And we can customize the liner for you to prevent your raw materials from corroding the cylinder.
Motor and decelerator. They are important devices that provide power for the rotary pelletizer. And motor and decelerator have passed strict national inspections.
Gears. Our gear rings are made of high-tech and wear-resistant materials, which can ensure that you can use the rotary granulator stably for a long time.
Bracket part. This is the structure that supports the entire rotary type fertilizer pelletizer. We use solid medium carbon steel plate and channel steel welded together. In addition, considering the friction between the tug wheel fixed on the bracket and the roller belt, our factory specially selects high-quality, anti-corrosion and wear-resistant materials, so as to increase the granulato service life a greater extent.
Rolling belt. This is the medium that connects each structure of the granulator, and ensure the normal operation of granulator.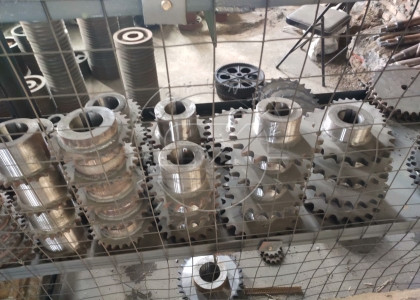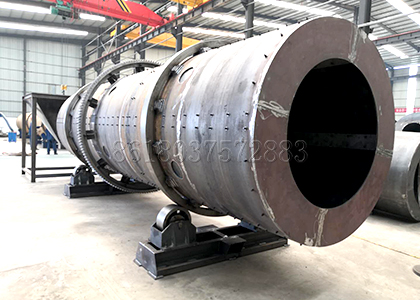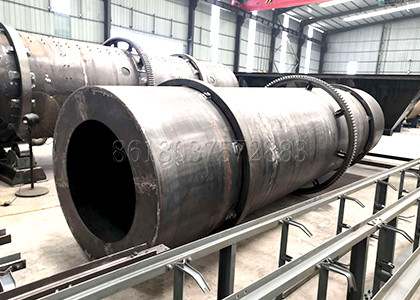 What is the granulation process of powdered materials in rotary granulators?
Rotary granulator adopts the working principle of wet granulation. You can use it to make granular fertilizer from powdered materials. But when you use the rotary granulator to granulate, you can start your granulation work following these steps.
 Prepare powdered fertilizer.
If you make granular organic fertilizer, firstly, you can use our composting equipment to process raw materials (such as pig manure, chicken manure, cow manure, etc.) If you are going to make granular compound fertilizer, you need to prepare powdered raw materials. And before starting granulation, you should ensure that the moisture content of the raw material is in line with the rotary granulator. (A certain amount of water or steam should be added to the powdered fertilizer, if your powdered fertilizer is so dry). Then, after the raw materials are wet mixed in the container, there will be a series of fully reactive chemical reactions.
Start the rotary granulator.
The rotary granulator uses the centrifugal force of a rotating cylinder to produce pellets. With the rotation and extrusion of the cylinder, the powdery material can effectively form particles.
In addition, there is a little tip to make your rotary granulator perform better. In order to ensure that the humidity of your powdered raw materials is consistent with that of the rotary granulator, you can add a small amount of materials. These can be steam, nitrogen solution, phosphoric acid, ammonia, calcium slurry, or phosphate ammonia slurry. With these materials, chemical reactions and heating reactions should occur in the tube. Finally, the size of the finished fertilizer particles is 3mm to 4mm
Advantages of rotary granulator than the other.
High quality and long use time. All materials and parts of our rotary granulator are of high quality.
The design is reasonable and the noise is low. Our rotary drum granulator is driven by a motor which drives the gear, and then the gear drives the drum to work. The granulator run stably in the whole granulation process.
The drum granulator manufactured by SHUNXIN eliminates the traditional scraper device, and now it has an automatic cleaning function. In addition, our rotary granulator does not produce substances that pollute the environment. This means that you do not need to buy waste disposal equipment. You can save some investment cost.
what other equipment do you need to build a compound fertilizer production line?
At present, you only have a rotary drum granulator, but you want to build a compound fertilizer production line. A complete compound fertilizer production line can help you continuously produce high-quality compound fertilizers and you can achieve more profits. There are some fertilizer machines that you need. They are automatic batching machine, double shafts horizontal mixer, semi-wet material crusher, rotary drum drying and cooling machine, cyclone dust collector and some conveying machines.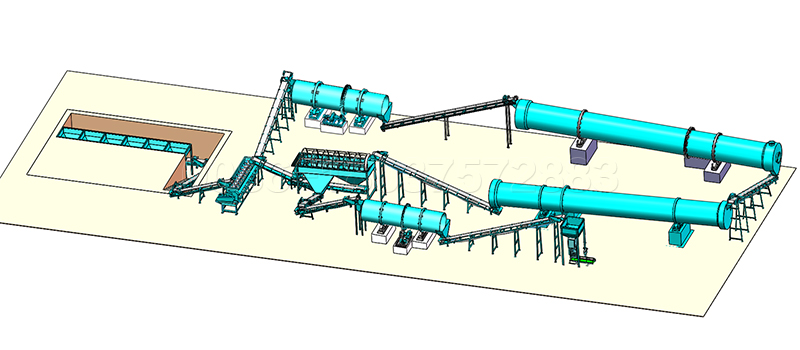 2 devices help you process raw materials.
Semi-wet material crusher can help you crush big lump raw materials. And double shafts horizontal mixer can be used to mix materials.
What is the automatic batching machine?
Automatic batching machine is necessary equipment for continuous production of compound fertilizer. It usually measured by electronic belt scale, and you can use it to blend different materials precisely.
How to buy a suitable rotary granulator?
A suitable rotary granulator is important for you, it can not only suit to your raw materials, but also to your production scale. And how can you buy a granulator that suits you?
Firstly, in order to buy a suitable rotary granulator, you need to determine what your ingredients are. In addition, you should know your production scale clearly. If you need help during this process, you can contact our professional sales manager.
Secondly, you should find an experienced fertilizer equipment manufacturing plant. For example, SX has been engaged in fertilizer equipment production for more than 20 years, we only provide you with high quality fertilizer machines. So you can find or customize the rotary granulator in our factory.
Finally, you can buy a drum granulator production line. So that not only the cooperation between the machines is better, but also buying equipment together can help you save some costs.