Manure management.
Manure management refers to collection, treatment and utilization of animal manures in an environmentally sustainable manner. And by managing animal waste you can not only solve the environmental pollution problem of farm waste, but also make greater use of manure resources. At present, the most widely used method of manure treatment is compost fermentation. Because composting is an aerobic method of decomposing manure and can well retain the nutrients in the animal waste. What's more, fermentation with high temperature fermentation can kill harmful substances in the manure, and obtain compost that can improve soil in the composting process. In addition, composted manure is good fertilizer for farmland.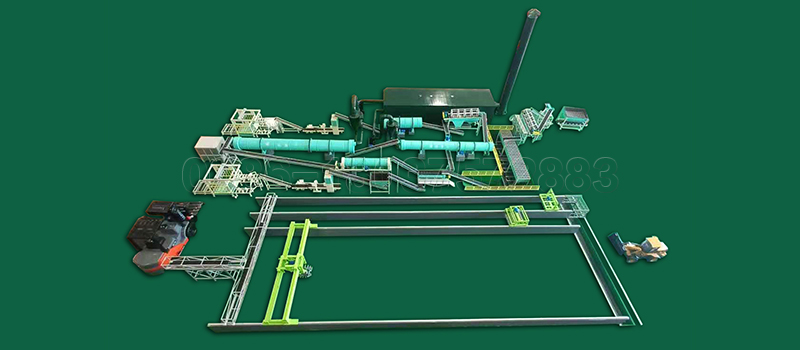 Composting manure ­— A best way to dispose animal waste.
What are the fermentation conditions? How to compost animal manure in your farm? Firstly, Composting manure is a process of aerobic microorganisms' activities and decomposing materials process. So, in the fermentation process, you need to ensure the oxygen, moisture and temperature are suitable for bacteria survival. Secondly, completely ferment manure needs 3 major phases: mesophilic phase, thermophilic and maturation phase. And the thermophilic phase is the most important, because the number and activities of microorganisms is the highest, and manure can be decomposed completely. In the process, you need control the temperature at 50-60 °C and adquate oxygen, so you need use composting machines to help you adjust fermentation conditions. Then through the maturation phase, you can get thoroughly manure compost.
Turning manure into organic fertilizer machines.
­We mentioned composting equipment in the introduction above, so what kind of machines do we use to get good fertilizer from manure management? According to different animal manure, we will provide you with different machines to meet your production needs.
Windrow compost machines for dispose your cow and horse manure.
Windrow composting is a commonly used farm scale composting method. Using this composting method to manage cow dung and horse manure, you need to control parameters include the pile size, moisture content, turning frequency, etc. So, when you collect cow or horse farm waste, you should build manure piles suitable for compost turners. And the piles are not higher than compost turner.
About windrow composting machine, we can provide you with crawler type compost turner and self-moving compost turning machine. And you can choose right machines based on your dairy or horse manure size. For example, you have large-scale dairy manure in your plant, you can choose our SXLDF-3000 crawler type compost turner with 1500 m3/h capacity. If you need to manage small-sized horse manure, you only need choose our small crawler or moving type compost turning machines.
Trench type compost turner for your pig manure management plant.
In addition to using windrow composting method, for treating pig manure better in your farm, we also designed trench type compost turning machines. But if you use this way to manage pig farm waste, you need put it into a groove before fermentation. And in the pre-treatment phase, you also need adjust the pig manure moisture, C/N, and particle size and so on.
In SX, we have 3 types composting machines and you can choose one for your pig farm. The first is groove type compost turner, its turning span can be 3-30 meters and the height can be 0.8-2 meters. The second is wheel type compost machine, it is suitable for large scale pig farm waste management. And the last is chain plate type compost turning equipment. If you want buy a composting machine which can operate well in the deep groove, it will the best choice for you.
Composting chicken poop with fermentation pot in your fertilizer factory.
If you do not want compost chicken manure in an open environment, you can choose our chicken poop fermentation pot. It is a sealed tank for fermentation with no pollution. What's more, ShunXin fermentation tank occupies a small area and low coat, which is very friendly to new entrepreneurs. In addition, it is less affected by outside temperature changes and you can use all year round. After 7-15 days fermentation, you can get manure compost, then you can use it as fertilizer for improving soil.
How to make fertilizer granules from composted manure?
In order to improve the manure fertilizer quality, you can use fertilizer machines to process powder fertilizer. What machines do you need? A complete fertilizer granulation line main include: fertilizer grinder, mixer, granulator, screening machine, dryer and cooler and other auxiliary equipment.
The granulating process of organic fertilizer from composted manure.
Firstly, you need to dispose the composted manure, because there are big agglomerates that affect granulation. And you can use our fertilizer crushers, such as new type vertical crusher, chain crusher, etc. Then, you can screen it with fertilizer screening machine to make sure that there are no bulks. When you mixed materials evenly, the preparation for granulating is finished.
Next process is producing organic fertilizer pellets. And we provide you with wet and dry granulators for you choose. Wet type granulator includes rotary drum granulator, new type organic fertilizer granulator, rotary drum churning pelletizer and pan granulator. While dry granulator has double roller extrusion granulator and flat die granulator.
Final step is managing organic fertilizer pellets. You can use SX rotary drum dryer and cooler to reduce the water content, and fertilizer screening machine can help you to select qualified fertilizer granules. Then, you can pack organic fertilizer to store or sale.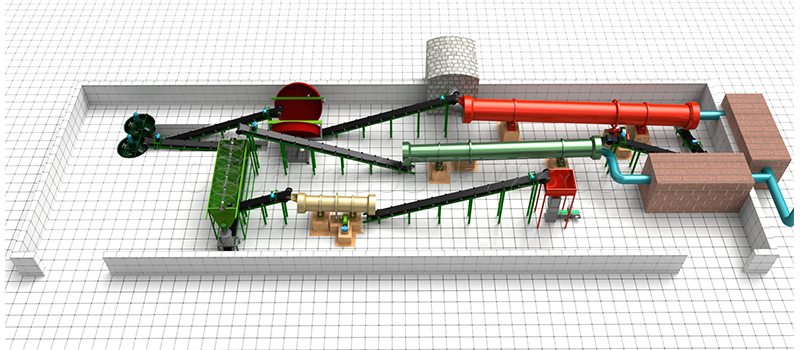 What is the cost of manure management?
After learning about managing manure process, you will know you need to use some fertilizer machines. Do you want to know the cost of building a manure management plant? Let us see the following introduction.
In SX, we not only have organic fertilizer production lines for small-scale medium-sized, and large scale manure management plant, but also we provide you with power and granular fertilizer production lines for you. And different fertilizer production lines, the cost will be different. A small fertilizer manufacturing plant price is about 15000 dollars. So if you are a new starter, you can set up a small scale fertilizer plant to dispose animal manure with less cost. In addition, the powder fertilizer production plant will be cheaper than organic fertilizer granules production plant. And if you want to buy a organic fertilizer production machines at ex-factory price, you can contact us.
Some tips for manure management.
There are some notes to help you handle animal manure well.
Composting process. When you compost manure, you can add some straw or leaves in your farm waste. It can adjust the compost C/N and manure can ferment better. In addition, if you compost horse waste, you can add some pig manure. Because the organic matter in the pig waste can speed up horse manure fermentation.
Granulating process. In the granulating line, you should pay attention to the powder fertilizer moisture. Because if the raw materials are so dry, the granules will not easy to shape.
Post-processing phase. If you want to make your fertilizer pellets more beautiful, you can use our fertilizer polishing machine. And if you want to coat granular fertilizer to improve fertilizer quality, we have rotary coating machine for you.
If you have other ideas about manure management, you can contact us now.