Cow dung powder making machine.
Cow dung powder making machine is used to manage cow manure in the organic fertilizer plants. So, you can turn cow dung into organic fertilizer with these machines. the cow manure fertilizer production process is easy and cost is low. What's more, you can use the cow dung fertilizer to earn more money. And the complete cow manure powder production machines include: manure dewatering machine, commercial compost making equipment, compost grinder, screening machine and manure powder fertilizer packaging equipment. Here, we will introduce cow dung powder making process and key machines for you. Then you can use these machines to turn cow dung into commercial powdery organic fertilizer.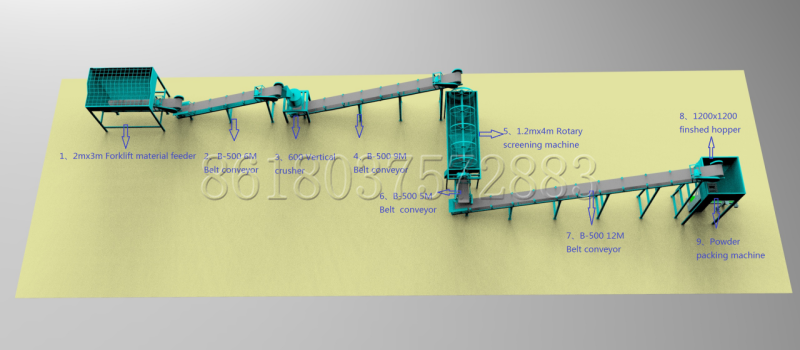 How to make cow dung powder?–Production technology.
High-grade cow manure fertilizer powder production relies on advanced production technology and machines. Now, the powdery organic fertilizer production technology we always used is aerobic fermentation. Because compared to anaerobic, aerobic fermentation is faster and occupies a small area. And the aerobic fermentation process can degrade most of the organic matter in cow dung, kill pathogenic bacteria and weed seeds in cow dung. Then the fully composted cow dung fertilizer can be applied to land to achieve resource utilization.
So, what machines do you need to produce organic fertilizer from cow manure? Here, you can find the detailed machines in your cow dung powder making process.
Machines for composting dairy manure preparation.
The first step is preparing cow dung for composting. Generally, you will use fresh cow dung or dry dairy manure to process organic fertilizer. But manure composting requires proper moisture and C/N ratio. So, in order to get a good cow manure fertilizer, you need to use some machines to process the raw materials before composting.
What machine can be used to dewater fresh cattle manure?
When you use fresh dairy manure to compost, you need use a manure dewatering machine to reduce the manure moisture content to about 50%. In SX, we have two hot-selling manure separators: solid-liquid separator machine and inclined screen dewatering machine.
How to select the two manure dewatering machines? If you have a large scale organic fertilizer plant, you can choose the inclined screen cow dung separator with 15-40 m3/h capacity. Otherwise you can buy the another one with lower cost.
Solid-liquid cow dung separator machine on sale.
Cow dung dewatering machine for sale.
Manure mixer in cow dung powder making process.
For most fertilizer manufacturing plants, manure mixer is a common machine.Usually, you will use it, if your have two or more types raw materials for composting or granulation. So, when you want to add other raw materials (Such as chicken manure, pig manure and so on.) into cow manure to compost, you need use it to blend all materials evenly. And this can guarantee the organic fertilizer quality.
Machines for Composting cow dung.
In the cow dung powder fertilizer production process, composting is the most important step. So, you need choose the compost making machine carefully. Now, the best-selling manure composting equipment on the market is trench type compost turner and windrow composting machine. In addition, if you have enough budget, you can choose the organic fermentation pot–a fully automatic composting machine without any odor. And all cow dung compost powder machines can short the fermentation time and improve the organic powder fertilizer quality.
Hot sale cow dung compost making equipment.
SX cow dung compost turner can adjust the compost temperature and moisture content. So, the fermentation bacterial can live and discompost organic matter. How many time do you need turn cow dung compost? Usually, when the fermentation temperature is over 65 ℃, you can use composting machine to turn. And you can turn it 2-3 times a day, but you need set the number of turnings according to the real situation of the compost.
Machines to make cow dung fertilizer powder commercial.
After composting, you can get the cow dung powder fertilizer. However, you need to further process it, if you want to sell it as commercial product. The easiest way is to screening, grinding and packaging cow manure organic fertilizer powder.
why sieving cattle manure fertilizer using rotary screening machine?
There will be some composted cow dung cakes in the organic fertilizer, so you need sieve out them. Then these lumps are transported into manure grinder for crushing. Only do this can your cow dung organic fertilizer is qualified. And we will provide you with powder fertilizer rotary screening machine with ex-factory price.
Cow dung grinding machine for crushing composted cow dung.
Here are 4 types fertilizer grinder for you to choose. They are new type vertical multifunctional crusher, semi-wet cow manure crusher, new cage crusher and chain grinder. And they all adopt advanced technology and latest design. So, you can use them to crush composted cow dung into fine powder fertilizer. In addition, if you want, you can use manure pellet machines to produce organic fertilizer granules with the crushed cow manure powder.
How to make cow dung powder fertilizer commercially?
To make your cow dung powdered fertilizer look more commercial, you can buy special fertilizer bags and pack them using an automatic powder fertilizer bagging machine. And our dairy manure fertilizer packing machine adopts the integrated structure, it can save you much work time.
What raw materials can be handled with SX cow dung powder making machines?
The complete cow dung powder making machine can not only treat dairy manure, but also used to manage other animal manure and organic waste.
-Chicken poop, pig manure, horse manure, sheep dung and other poultry manure.
-Filter mud from sugar mill and tea mill.
-Biogas residue and straw sawdust.
-Sludge and garbage and so on.
If you want to dispose other raw materials, you can consult us.
How much is the SX cow dung powder making machine?
The cow dung fertilizer machine price is based on the manufacturing materials and its processing capacity. And our machines all use the most right materials to make sure they have a long service life and large output. For example, we use optimal carbon steel plate and box iron to make cow manure grinders. Besides, our crushing hammer adopts forging technology for making it wearable and sturdier. In addition, our cow dung processing machines prices is different with different capacities. And the machine price is higher, which has large output. Meanwhile, we can customize and design machines for you, if you need.
If you want get the cow manure powder making machines prices list, you can contact us.