Organic fertilizer machines in Turkey.
On October 8, 2020, our Turkish customer bought complete organic fertilizer machines in SX factory. This organic fertilizer production line not only can help Turkish people to 6 different products, but also can be used to process manure compost. So, if your raw material is chicken manure, pig manure, cattle manure, horse manure, etc, you can use these organic fertilizer machines to treat. In order to make you understand better, the following are the details of our cooperation with Turkish customers for your reference.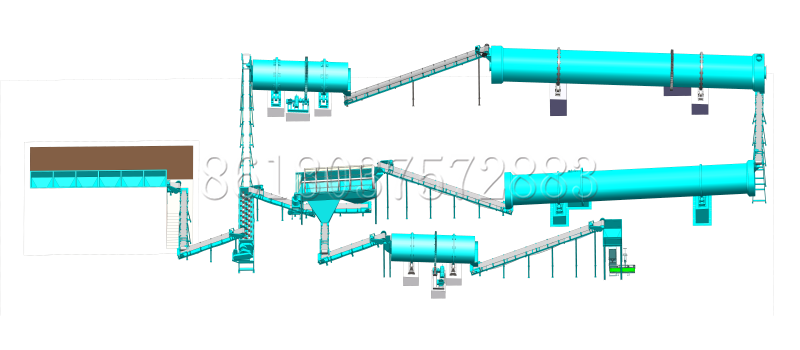 What is the budget for set up an organic fertilizer plant in Turkey?
In Sept, 2020, this is the first time we have received an email from Turkey. And they told us that they want to buy a fertilizer crusher and double roller granulator machine and their budget is 8,000 USD. However, after our salesman introduced them to the machines that meet their needs, Turkish customers told us that they now want to buy the whole organic fertilizer production line. Therefore, their budget has also changed. And we also gave them a big discount, they purchased 3-4 t/h organic fertilizer making line with lower cost.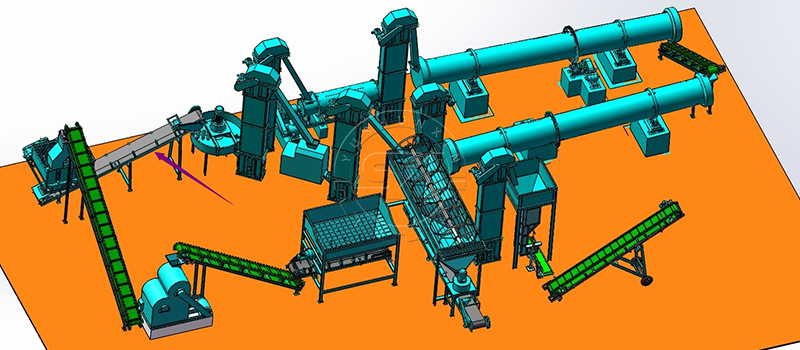 In fact, to build an organic fertilizer plant, it is not only necessary to consider the budget for purchasing machinery, although this accounts for a large part of it, but also you need consider the budget of renting site and raw materials (if you do not have a suitable venue and raw materials yourself).
How many machines in an organic fertilizer production line for Turkey?
In order to meet the customer requires, our professional team revised the organic fertilizer production line drawings 3 times, and finally designed the most suitable plan to meet the following customers needs:
Save space.
Low cost and high efficiency.
They can produce 6 different fertilizer products.
What organic fertilizer machines are in the production line? Why?
In the Turkish organic fertilizer making plant, there are some organic fertilizer machines we provided. But, why do we use these organic fertilizer machines?
Buffer silos. In order to meet the production continuity at low cost, we provided this type machine for Turkish customers.
Horizontal crushers. We use two crushers in this plant to grind different raw materials, and they can produce 6 type fertilizer products.
Rotary screening machine. This machine can separate qualified and unqualified products. Then they can get more economical benefits.
Double roller granulator. We designed the equipment can realize many products production with different shapes. And its capacity can be 3-4 t/h.
Drum dryer and cooler. For getting better storage and transportation products, they can use these two machines to reduce the product moisture, and increase the hardness of the product.
Packing machine. Taking into account the small output of customers, we recommend them to use a low cost single bucket packaging machine.
Bucket elevator and belt conveyor. Because the belt conveyor is a cheaper and widely used machine.But we also use a bucket elevator in this organic fertilizer making line. Because it can largely reduce the land occupy, in the long term, they can save a big amount of factory rental fee.
Why choose SX organic fertilizer machines?
High quality fertilizer equipment. All of our fertilizer equipment adopts advanced technology and all passed the national quality inspection. So our machines all have long service life.
Low organic fertilizer machines price. We are the fertilizer equipment manufacturer, our machines all are sold with ex-factory price (When we hold events, many organic fertilizer machines have big discounts).
First-class service. We have 20 professional teams, and we insist on that only the first-class equipment and first-class service can make our company grow longer.
Besides, we also supply other organic fertilizer machines and compound fertilizer production lines with different capacities. And we aim to help more customers to establish fertilizer plants for producing high quality fertilizer products. So, if you have idea to set up a fertilizer plant, you can contact us.