Bio fertilizer manufacturing plant.
Bio fertilizer manufacturing technology is a high-tech, which is mainly divided into two stages: bacterial agent production and fertilizer producing. You can adopt this technology to dispose the biological waste into bio fertilizer, such as animal manure, poultry litter and crop straw and so on. But it is not so easy to produce bio fertilizer. What equipment do you need in the bio fertilizer manufacturing process? What details should you pay attention to? There are some tips for your reference.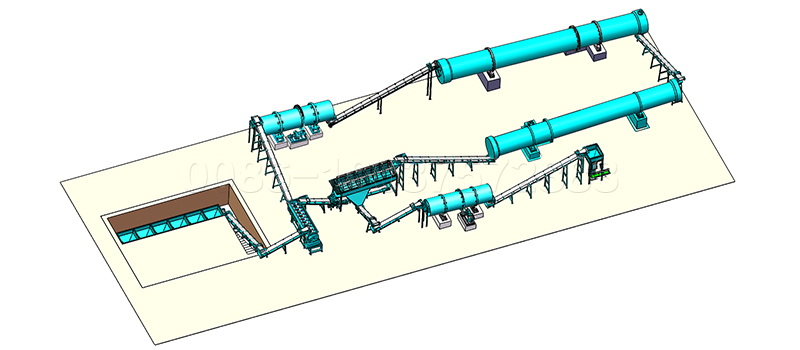 What is bio organic fertilizer?
Before you understand how to make bio-fertilizer, you should first know what bio fertilizer is. The life activity of microorganism is the core of biological fertilizer. It enables crops to obtain specific fertilizer effects. And bio organic fertilizer is also a kind of fertilizer with both microbial fertilizer and organic fertilizer effect. It contains live microorganisms (or bacteria you choose) that are beneficial to plants and soil. So bio organic fertilizer can help inhibit the growth of harmful bacteria in the soil and reduce the occurrence of diseases. Meanwhile bio-organic fertilizer has complete nutrient elements, providing comprehensive nutrients for crops.
How to make bio organic fertilizer?
Bio organic fertilizer is an organic fertilizer suitable for agricultural use. And the main raw materials are organic waste and functional microorganisms. So, in bio fertilizer manufacturing process, you need to add microorganisms into organic fertilizer. In addition, the main production process of bio-organic fertilizer includes: the materials fermentation, the fermented materials crushing, adding live microorganisms (or bacteria) for fertilizer, mixing all materials, bio organic fertilizer granulating, screening and coating of the fertilizer and so on. Therefore, machines you will use include: compost turning machines, fertilizer shredders, mixers, granulators, drum screening machines and coating machines, etc.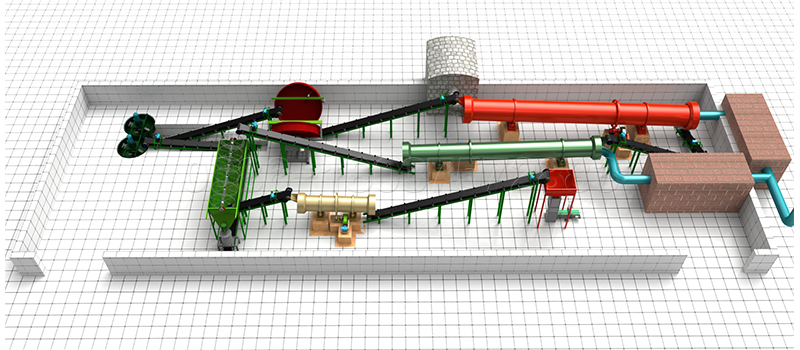 How to ferment biological waste for bio fertilizer manufcturing?
The disposal of biological waste has always been a concern. Because biological waste (such as animal and poultry manure) will not only pollute the environment, but also bring certain harm to our lives. It is important for you to properly dispose it. Currently, the fermentation of the animal manure is the important step of the bio fertilizer manufacturing.  Then you can turn biological waste into bio fertilizer. This way can also bring you economic benefits.
Windrow type composting for treat bio waste. You can pile up biological waste into windrow type, and the compost pile can be placed on the ground or in a deep groove. Then you can choose the right equipment for turning compost pile, which can help you adjust temperature, moisture and oxygen content. And we not only provide the groove type turning machine, chain plate type compost turner, wheel type compost turning machine, but also have crawler type compost turner and moving type compost turner. So, you can choose the composting machine that suits you in our company.
There are two methods you can choose to compost biological waste.
Composting in the organic fertilizer fermentation pot. If you adopt this composting method, you need put waste in a fermentation pot for fermentation. And during the fermentation process, it will not produce odor. In addition, our fermentation tank can work automatically, which can provide the suitable temperature, moisture and air content for microorganism activities.
Bio fertilizer powder and granule making.
Like most organic fertilizers, you can use fermented compost to produce bio organic fertilizer. And there are two types of the bio organic fertilizer, powdered bio-organic fertilizer and granular bio-organic fertilizer.
How to produce the powdery bio organic fertilizer?
This is an easy way to produce bio fertilizer and the production cost is low. Because you only need to add specific microorganisms to the fermented materials according to a certain ratio for mixing. And in the process of the production, you need a blending machine to mix the organic materials and microorganisms. Our double shifts horizontal mixer will meet your needs, which can mix evenly organic fertilizer and specific microorganisms. After mixing evenly, you can dry and pack them.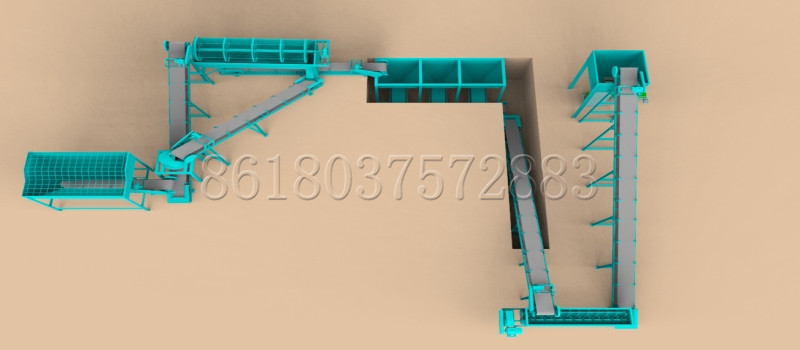 What is the granular bio-organic fertilizer production process?
Different from the granulation process of ordinary organic fertilizer, the process of producing bio organic fertilizer needs to add specific function microorganisms or bacteria. According to different needs, you can choose to add functional microorganisms in or after granulation. And the sequence of adding functional microorganisms will affect the selection of equipment after the granulation process, but granulation is the key process for the production of granular bio-organic fertilizer. So you need adopt the granulating equipment to making granular bio fertilizer.
Now SX can provide you with different types granulators for producing bio organic fertilizer. In addition to we have rotary drum churning granulator, which includes wet type stirring granulation and rotary drum granulation. And we also have new type organic fertilizer granulator and disc granulator that you can choose. In addition, these types granulators are suitable for wet type granulation.
What do you need to do after granulation?
According to the sequence of adding microorganisms, what you need to do after granulation is different. If you add the functional microorganisms (or bacteria) during granulating process, you need use rotary drying machine to dry the bio fertilizer after granulation. And it is important for you to specially notice the temperature, because the high temperature will kill the functional microorganisms.
But if you choose to add the functional microorganisms (or bacteria) after granulation, you can use our rotary coating machine, which can help you to make the functional microorganisms (or bacteria) coat the fertilizer pellets.
After adding bacteria, you can use SHUNXIN's rotary screening machine to screen the bio fertilizer. What's more, it will help you save more manpower and make your bio fertilizer production line more automated, if you have an our (single) double bucket automatic packaging scale.
What details do you need to pay attention to during the bio fertilizer manufacturing process?
There are some details during the bio fertilizer manufacturing process, you need pay attention to them.
What kind of microorganism to choose? Microbial strains are the core of biological fertilizer. Different microorganisms have different functions, so you need choose functional microorganisms according to the your bio fertilizer. Generally, the microorganism you choose should have good high temperature resistance and high survival rate.
Control temperature and water content. The quality of biofertilizer products depends on the effective number of live microorganisms. And the temperature and water content will affect the survival and growth of microorganisms. So, in the process of biological fertilizer production, it is very important to control the temperature and water content within a range. For example, when you use a dryer to dry granular bio-organic fertilizer, you need make sure that the temperature in the dryer is below 65 degrees. Because live bacteria cannot survive above 65 degrees.
Biological fertilizer production equipment will affect fertilizer quality. If you use the high-quality equipment, the damage to the raw materials is relatively small. So as you can get high-quality bio fertilizer.