Fertilizer belt conveyor for sale.
Fertilizer belt conveying machine is a cheap and simple equipment. You can use it to transport kinds of fertilizers from one point to another with minimal effort.
And in SHUNXIN Plant, you can find mobile belt conveyors, incline belt conveyors and other conveyors. Because the belt conveyor can make your production line to process products continuously and efficiently. At the same time, using the belt conveyor can help you save a lot of labor costs. You can use them to connect other fertilizer equipment to form a complete fertilizer production line.
All in all, having a fertilizer belt conveyor in your fertilizer plant is an excellent choice.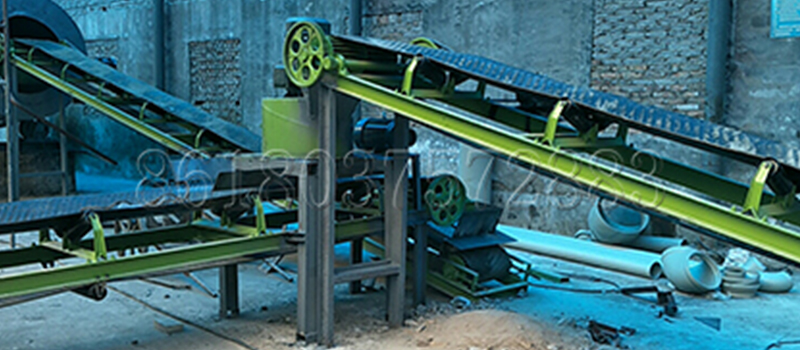 What materials can fertilizer belt conveyor transport?
Belt conveyor can help you complete long time and distances transportation in various environments. In addition, our fertilizer conveyor adopts a thick and corrosion-resistant conveyor belt. So you can use it in all kinds of fertilizer production plants, such as organic fertilizer plant and compound fertilizer powder and granules plant, bio-organic fertilizer, BB fertilizer, NPK fertilizer, etc. You can also use it to transport all kinds of manure compost (like chicken manure, cow dung, pig manure, horse manure and so on).
In addition to transporting fertilizers, our fertilizer belt conveyors can also move other materials. It can be widely used in agriculture, machinery manufacturing, printing industry and other industries to help them complete material transportation.
How does fertilizer belt conveyor work?
A fertilizer conveyor belt consists of two necessary parts: two motorized pulleys and a long stretch of thick, durable conveyor material. When you start the fertilizer conveying machine, the pulley starts to rotate. And under the action of friction and power, the conveyor belt will move continuously. Because the fertilizer is not easy to slip off on the rough belt, it will complete the conveying process with the movement of the belt.
Fertilizer belt conveyor technology advantages.
Fertilizer conveying machine in SX has many advantages in technology.
Low power consumption. Since the material and the conveyor belt have almost no relative movement, not only can the belt running resistance be small, but also it can reduce the material and the belt breakage.
Adaptable and flexible. It can be used in many industries. And you can customize conveyor belts of different lengths to meet your products.
High conveying efficiency and low cost. Belt conveyor can work continuously for a long time, and help you complete long distance transportation. Moreover, the conveyor investment cost is low and its service life is long.
The fertilizer belt conveying machine can make your transportation work easier and more convenient, and also make your production process more efficient. In addition to fertilizer belt conveyors, we also have more high-quality fertilizer equipment. If you want to learn more about our products and quickly start your fertilizer production business, you can contact us now.