Double roller granulator for sale.
Double roller granulator is a granulating equipment with wide adaptability to raw materials. The roller extrusion granulator is not only the key equipment for compound fertilizer granulation, but also it can be used to make organic fertilizer. In addition, you can use SHUNXIN fertilizer roller compactor to produce the fertilizer granules into differnet shapes. More importantly, our double roller pelleting machine adopts the dry granulation method. You can make granular fertilizer at the room temperature without drying. And you can use it alone. You can use it to form an efficient fertilizer production line with our other fertilizer equipment.
What is the difference from the rotary granulator?
Both double roller extrusion granulator and rotary drum granulator are the granulating equipment. And they are suitable for production of high, medium and low concentration of compound fertilizer. However, there are some differences between double roller press granulator and drum granulator.
The method of the granulation is different.
The double roller pressing granulator adopts the dry granulation method, while the rotary drum granulator is a wet granulation machine. This means that you do not need to use other equipment to dry the products, after granulating with the double roller fertilizer granulator. But if you use a rotary granulator to make fertilizer granules, you need drying and cooling machine to dry them. So that you can save some money, if you buy our granulator to produce compound fertilizer.
The working principle is different.
The structure design of the roller granulator and the rotary granulator are different, so their working principles are also different. The rotary granulator uses the rotating motion of the drum to agglomerate the material particles into balls. While the double roller granulator uses mechanical pressure to process powder materials into fertilizers of different shapes.
How does the double roller pelletizer produce granular fertilizers of different shapes?
In order to better understand the double roller pressing granulator working principle, you should know its structure first. Then you can understand the working principle of making the fertilizer into different shapes.
Learn about the structure design of double roller granulator.
The double roller mainly has 4 parts. Then, we will introduce the 4 parts as following.
Frame part. The frame of the double roller pelletizer is made of medium carbon steel plate and welded by channel steel. In addition, there are 4 hoisting holes in the middle of the four corners of the frame for use in loading, unloading and transportation.
Transmission connection part.

We designed motor to drive the granulator.

In addition, the transmission chain consists of a sprocket and a chain, which transmits the transmission device to the broken and separated part.

They are all high-quality parts, so that you can use the double roller granulator efficiently.
Working part of the granulator head. This part includes two roller sheets, two shafts and other components. Moreover, special bearings are provided on both sides of the driving and driven shafts. The bearings are composed of bearing racks and we install them on the frame.
Crushing and separating part. This part contains crushing rollers, screens and other auxiliary parts. This design can help you separate qualified fertilizer particles.
What is the key component that can make fertilizer granules of different shapes?
The key component is roller sheet with different shapes and sizes of ball sockets on the two rotating rollers. When you add raw materials into granulator, two rollers squeeze and the action of the ball socket with a specific shape on the roller sheet, you can get specific shape and size granule.
And this series of granulator in our company can be customized, especially, there are a wide range options about the shape and size of ball socket on the roller sheet. So, if you like this type granulator, you can contact us to customize a special double roller granulator.
What is the suitable material for double roller granulator?
SHUNXIN's double roller extrusion granulation equipment can be used to granulate different kinds of raw materials. Here are some materials for your reference.
The raw materials of compound fertilizer. You can use the roller granulator to produce compound fertilizer granules. Therefore, many raw materials are suitable for the granulator, such as, zinc sulfate, potassium sulphate (SOP), potassium chloride, ammonia chloride, ammonia sulfate, magnesium sulfate, sodium chloride, etc.
Some materials for manufacturing pills. You also can use our granulator to produce some pharmaceutical pills. Because its principle is physical extrusion, it will not destroy the properties of the medicine.
The materials of making organic fertilizer pellets. With the help of the double-roller granulating machine, you can make the organic fertilizer pellets from chicken manure, pig manure, cattle manure and other animal poultry manure waste.
Besides, you can use SHUNXIN fertilizer compactor to make bentonite granules and other particles. All in all, the double-roller granulator is  a multi-functional granulator. If you are also interested in it, leave your needs.
A double roller granulator production line with an output of 3 t/h for Turkey
Now, there is a double roller granulator production line for you reference. This production line can produce fertilizer with a 3 t/h, and can produce 6 types products, which is specially customized for our Customers in Turkey.
Our Turkish customer wanted a double roller pelletizer production line with an output of 3t/h.
His aim granulating size is 3-3.5mm.
And he can use the production line for 6 different products.
What can we provide to Turkish customers?
First of all, we confirmed the raw materials and the size of the site. It can help us choose the right equipment and design the best production line. In addition, we sincerely invited customers to visit our factory. (If it is convenient for you, we welcome you to visit our factory at any time).
Then, we recommended suitable equipment to him. The roller granulator is DZJ-4.0 roller extrusion granulator, its production capacity is 3-4 t/h. According to the granulator and the site, we also designed the production line for customers to view.
After detailed communication with Turkish customers, we determined the final production line. The final double roller granulator production line includes: folklift feeding machine, horizontal crusher, double roller granulator, rotary screening, bucket elevator and the height adjustable belt conveyors, rotary drum drying and cooling machine and cyclone dust collector, packing machine.
When the Turkish customer completes the payment, we arranged to deliver the machines to him and do after-sales service. We helped customers install and debug equipment. And we also help them train their employees to operate our equipment correctly.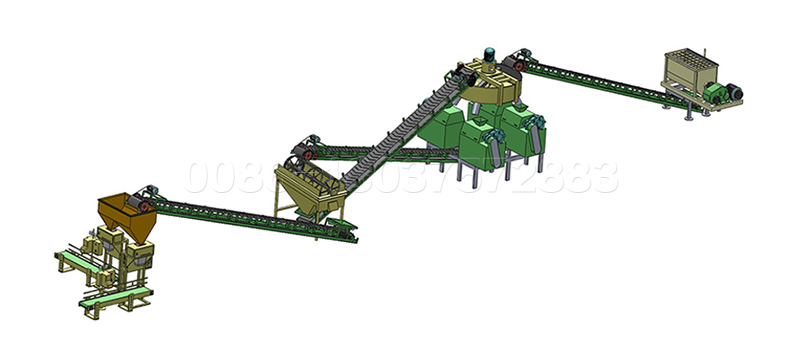 Why is SHUNXIN's double roller granulator so popular?
As a granulator, SHUNXIN's double roller pelletizer has the following advantages that make it popular.
Energy-saving. The granulator consumes less power and does not produce pollution. In addition, it requires the raw material moisture content is only 5%-10%. Therefore, after granulating,  you do not need dryer and cooler. And you can obtaine the relatively dry fertilizer particles at room temperature.
High-efficiency. Our multifunctional double-roller granulator can treat over 30 materials into granules. So, you can produce different kinds compound fertilizer granules with it. More importantly, the granulation rate of our fertilizer compactor can reach over 90%.
Simple operation and convenient maintenance. The structure of SHUNXIN's granulating machine is simple. And it is easy to operate, adjust, and maintain.