What is fertilizer blender?
Fertilizer blender is an equipment for mixing the powder materials evenly. You can also use it to blend other materials.
At present, in order to produce nutritious fertilizer, most fertilizer manufacturers add different materials for granulation. But before granulation, you must mix the raw materials evenly. So it is an essential auxiliary equipment in the fertilizer production process.
Therefore, according to the different raw materials, SHUNXIN Heavy factory provides you with two different fertilizer mixers. One is a fertilizer blender which is special suitable for BB fertilizer, and the other can be used for mixing organic fertilizer and compound fertilizer.
How to get BB fertilizer by fertilizer blender?
BB fertilizer is a kind of fertilizer made by mixing several granular single fertilizers or compound fertilizers in a certain proportion. And the processing of bb fertilizer is very simple, you only need a batching machine and a BB fertilizer mixer to complete the production in a small BB fertilizer production plant. There are two types mixers for processing BB fertilizer, BB fertilizer mixer and drum BB fertilizer mixer.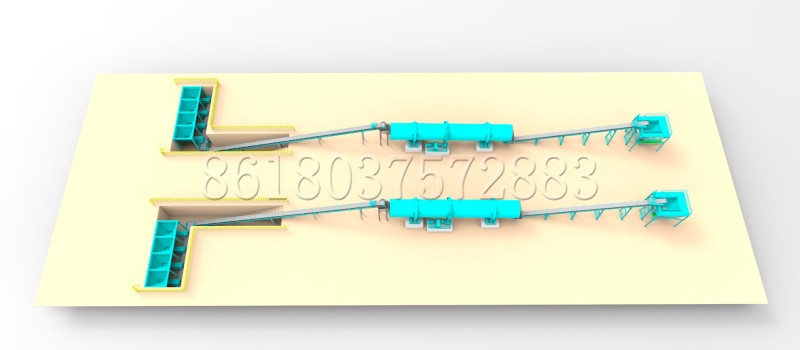 BB fertilizer mixer for producing BB fertilizer.
Our BB fertilizer mixer is a new product produced using industrial stainless steel materials. Not only the appearance is exquisite, but also the design is reasonable and the operation is simple. It mainly includes storage bins, weighing scales, large inclination belt conveyor elevators, mixers, etc. According to your needs, you can choose the specifications of BB fertilizer mixer in our company: 7-9 t/h, 10-18 t/h, 20-24 to t/h, 25-30 t/h, etc.
Features of BB fertilizer mixer.
Small floor space. We use a large inclination belt conveyor elevator, to a certain extent, it can save some production area.
Reasonable structure and high production efficiency. The bb fertilizer mixer not only solves the impact of cold weather and other factors, but also improves the accuracy of the ingredients. You can use our mixer to produce fertilizer quickly and safely.
Smooth operation and low noise. Each part of the blender is connected well. When you use it, it can run smoothly, and the noise is very small.
40t/h drum type BB fertilizer mixer.
There is a drum type BB fertilizer blender you can choose for your BB fertilizer plant. The drum type BB fertilizer mixer can help you achieve continuous fertilizer production, and the out pout can reach 30-40 tons per hour.
The mixer is highly efficient and wear resistant. And its lining is corrosion-resistant. If you want purchase a drum type BB fertilizer blender, you can tell us your requirements. And we can customize a suitable BB fertilizer blender for you.
4 kinds of fertilizer mixers for organic fertilizer or compound fertilizer production.
If you want to mix all the materials evenly before granulating, a suitable fertilizer mixer is essential. SHUNXIN single shaft mixer, double shafts horizontal mixer, horizontal mixer and disc mixer can be used in compound fertilizer or organic fertilizer production line.
Single shaft mixer for sale.
You can use single shaft blender for continuous mixing powder fertilizer in the fertilizer plant. Generally, the mixing machine can be used with automatic batching system, and it is totally automatic. When the materials enter the mixing tank, the mixer rotates through the spiral blade to perform mixing evenly and enter the next granulation system. In other words, you do not need to feed and discharge by yourself or employees.
SXWJ-1630 horizontal mixer for large scale fertilizer manufacturing plant.
SXWJ-1630 horizontal mixer is a low-cost fertilizer mixing machine with a mixing output of 10-15 t/h. But this blender is a semi-automatic fertilizer mixer. If you use this type mixer, you need some staff to unload the mixed materials. Moreover, in a large-scale fertilizer manufacturing plant, if you only have one horizontal mixer, it will reduce work efficiency. Therefore, in your large-scale fertilizer production plant, we recommend that you equip two SXWJ-1630 horizontal mixers in a fertilizer production line.
Vertical disc mixer for small scale organic fertilizer production factory.
Vertical disc mixer is a kind of mixing equipment specially used for organic fertilizer production. For a small organic fertilizer production factory, SXPJ-1600 vertical disc blender will be the most suitable mixer. The SXPJ-1600 vertical disc blender capacity can be 2-4 t/h, and is easy to unload. In addition, this mixing machine can run smoothly and has lower noise.
SHUNXIN double shafts horizontal mixer.
SHUNXIN double shafts horizontal mixer and single shaft mixer are the same kind of mixing equipment. Structurally speaking, the double shafts horizontal blender has one more mixing shaft than the single shaft horizontal mixer. From the perspective of working efficiency, it is obvious that the double shafts horizontal mixer has a higher working efficiency than the single shaft mixer. But their working principle is the same, they rely on the spiral blade on the mixing shaft to rotate and mix the raw materials. And the fertilizer blender is also suitable for mixing viscous materials with 30% moisture content. If you require higher efficiency of the mixer, you can choose SX mixer.
Why choose SHUNXIN fertilizer blender?
As a fertilizer equipment supplier with nearly 30 years of experience, SHUNXIN has sold our mixers and other fertilizer equipment all over the world. Not only is the quality of our equipment guaranteed, but our price is reasonable.
SHUNXIN fertilizer blenders are made of high-quality, corrosion-resistant materials, and have a long service life.
Our mixer adapts to a wide range of raw materials. Our mixers are not only suitable for compound fertilizers but also for organic fertilizer production.
We provide good pre-sales, on-sales, and after-sales services.
If you want buy fertilizer blenders, you can get in touch with us or leave your requirements.