How do you manage dairy manure?
When you know, dairy manure management can bring you economical benefits, you will think how to manage it. At present, it is an ideal way for you to turn cow manure into organic fertilizer. This method of treating dairy manure also will not pollute the environment. The complete dairy dung treatment system of a cow dung fertilizer plant includes: composting cow dung, crushing, screening, mixing, granulating system, drying and cooling system and packing system.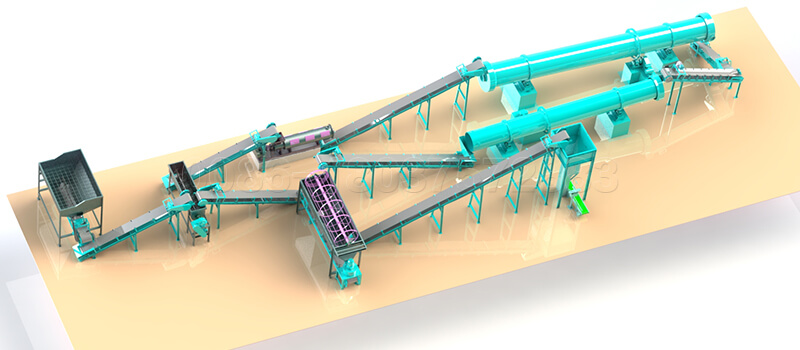 The dairy manure management process.
Composting system. Using compost turner to dispose dariy manure is the best way for cow farmer.
Crushing. After the fermentation, there will be some agglomerated cakes.  You can use a crusher to crush dairy manure compost.
Screening. Then, you can use the rotary screening machine make sure there are no agglomerated cakes. And you can get good powder fertilizer or make granular fertilizer easily.
Mixing. Before granulating, you can mix the materials to meet the requirement of granulating machine.
Granulating. When you make granular dairy manure fertilizer, granulating machine can improve your work efficiency and product quality.
Drying and cooling.  In order to facilitate the fertilizer storage, you have to go through drying and cooling treatment before packing.
Packing. The packaged granular fertilizer or powder fertilizer can be sold on the market.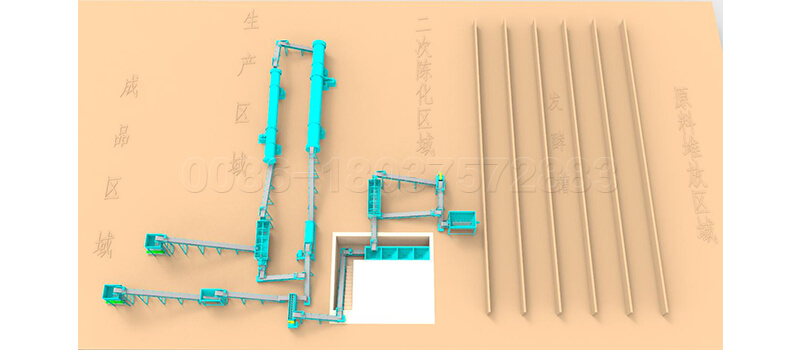 Machines for dairy manure management in the large-scale organic fertilizer plant.
You can see that dairy manure management need 7 steps. If you have a large-scale organic fertilizer plant to dispose cow manure, there is a lot of work to do. You should have the following machines to help you. There are some machines in a large cow dung fertilizer production line: cow dung powder making machines, granulation machine, drying and cooling machine, screener and packing machine and other accessories.
A composting machine for large-scale organic plant.
Wheel type compost turner is the best machine to turning manure in large-sized dairy farms. This machine needs to compost cow dung in the groove. using the wheel type compost turning machine has two main benefits. On the one hand, indoor composting can easily control the temperature, on the other hand, it will reduce environmental pollution.
Which manure grinder can you use for fine cow dung powder making?
There are two crushers to recommend you for crushing cow manure. New type vertical crusher is a kind of adjustable crusher machine without screen cloth. And we design it on the basis of absorbing the advanced fine crushing machines in domestic and abroad. It can be widely used in organic fertilizer crushing. While semi-wet material crusher is another crusher. It is  suitable for crushing biological fermentation materials of cow dung. Both crushers can help you crush large pieces of cow manure.
Why use rotary screening machine in dairy manure disposal?
When you dispose a large-sized composted dairy manure, you will need a rotary screening machine. It will help you screen the dairy manure powder fertilizer which meet your needs, and you can use sieved cow manure powder for granulation. It will be the best choice for you to pick a SHUNXIN rotary screening machine. Because it has many characteristics such as high screening efficiently, low noise, small amount of dust, long service life, less maintenance, and convenient maintenance.
Choose the mixer that suits you if you need.
The manure mixer is an indispensable equipment in your organic fertilizer plant, if you want add other materials into dairy manure fertilizer. We have 4 types of mixer you can choose. There are Horizon mixer, single shaft mixer, double shafts horizontal mixer and disc mixer. They all can help you mix materials evenly.
Using rotary drum churning granulator to granulate.
SX developed a rotary drum churning granulator can make the dairy manure into a specific shape. And it is a dual purposes granulator, which includes wet stirring granulation method and drum granulation method. The combination of the two kinds of granulation makes the granule has higher ball rate and more beautiful, meanwhile energy-saving. If you have a rotary drum churning granulator in your plant, your granulating costs will be reduced.
Drying and cooling dairy manure granular fertilizer.
After granulating, you get the fertilizer is still non-compliant cow manure fertilizer pellets. It contains about 20% moisture and is not easy to store and transport. So you need rotary drum drying machine and cooling machine to dry and cool the dairy manure granular fertilizer.
The single(double) bucket automatic packing scale for packing dairy manure fertilizer.
In order to make your fertilizer factory more automated and more efficient, you can use our company's packaging machine to pack fertilizer. single(double) bucket automatic packing scale can help you quantitatively pack cattle manure organic fertilizer, you only need less employees to pack the fertilizer.
How much manure does a dairy produce in a day?
Different ages and daily food intake will affect the amount of cow manure production. On the average, a dairy cow produces 82 pounds of manure per day per 1000 pounds liveweight. And if you have a cow factory with 1000 cows, you will have about 80000 pounds cow dung per day. If you leave it alone, it will cause you a lot of trouble. So dairy manure management is a job you must do in your farm. In particular, countries of the world have advocated environmental protection and green economy in recent years.
what is the economic value of dairy manure management?
If you can handle dairy manure well, it will bring you good economic benefits, not just an unpleasant smell.  On the one hand, dairy dung contains crude protein 10%-20%, crude fat 1%-3%, nitrogen-free extract 20%-30%, and crude fiber 15%-30%.  So you can treat cow dung with specific method as feed.  On the other hand, you can use cattle manure to make organic fertilizer.  Because it is rich in organic matter such as nitrogen, phosphorus and potassium.  And  the cattle manure granular fertilizer can be used for agricultural development.
Using cow dung to make organic fertilizer.
And now most people choose to compost cow dung,  then make it into organic granular fertilizer.  Because the method of turning cow dung into organic fertilizer makes dairy manure management easier, and this way is more friendly to environment.  In addition, you can sell organic granular fertilizer to farms and other plants at a good price, so that cheap and nasty cow dung can be turned into treasure.  If you have a large amount of dairy waste, making dairy manure organic fertilizer from dairy waste will be a profitable project.
What about organic fertilizer made from dairy manure?
You know that dairy manure management has many benefits, but do you know what about dairy manure organic fertilizer? Will processed cow dung still contain rich organic matter? Where can it be used? You need to know the answers to these questions, before starting a large-scale organic fertilizer business.
Due to high temperature fermentation, some organic matter in cow manure will be lost. But it is still rich in organic matter such as nitrogen, phosphorus and potassium. And our company's fertilizer  equipment adopts advanced technology, which can reduce the loss of organic matter. In addition, after high temperature fermentation, pathogenic bacteria and insect eggs in the dairy manure are greatly reduced. So the cow manure compost is more suitable for use.
The dairy manure organic fertilizer development prospect.
Whether it is farmland or vegetables, fruit plantations, more and more plantations use dairy manure organic fertilizer. It can be said that as people pay more attention to organic food, the application of organic fertilizers will become more extensive. In the future, organic fertilizer may gradually replace other fertilizers and become an essential fertilizer in crop growth. As the organic fertilizer, dairy manure organic fertilizer will have a good prospect.
Where can the method of disposing of dairy manure be used?
The dairy manure fertilizer production line is a classic example of using animal manure to make organic fertilizer. The method of dairy manure management can also used to dispose other animal manure and organic waste, such as chicken manure, pig manure, horse waste, sheep manure and so on. What's more, with the global emphasis on green food, the demand for organic fertilizer will increase accordingly. The scope of use of dairy manure organic fertilizer production line will also be greater.
This is a good investment opportunity, if you want start fertilizer business. And you can contact us, if you have any questions about our equipment or cow manure organic fertilizer production line.