Small scale organic fertilizer plant.
Maybe you have been paying attention to the organic fertilizer industry, maybe you are looking for an opportunity to develop the organic fertilizer business, or you have decided to build an organic fertilizer plant. But you are hesitant to build a large-scale or small-scale plant. For most start-up entrepreneurs, we recommend that you start with a small organic fertilizer plant. Because small-scale fertilizer plants have the characteristic of low investment, and you can be operated simply. Generally, a small scale organic fertilizer plant can produce 500-1000kg fertilizer per hour. And it can well manage the manure produced by small-scale farms.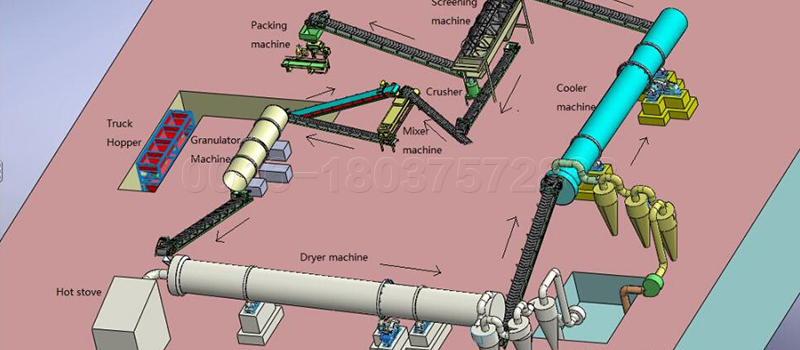 what do you require to set up a small scale organic fertilizer making company?
When you start to build a small organic fertilizer plant, you should have a project plan that includes raw materials, plant site, and production equipment.
About raw materials. There are generally two sources of raw materials, one is the organic waste generated by your own farm, and the other is the animal manure you buy from the local farm. If you need to buy the raw materials, you should have a survey before building an organic fertilizer factory.
Plant location. Before choosing the location of the factory, you need to understand the relevant local policies. You have to avoid areas which prohibited by the local government.
Production equipment. High-quality machines are necessary for producing organic fertilizer in your small-scale organic fertilizer production plant.
Organic fertilizer production machines for small scale organic fertilizer plants.
In your small scale organic fertilizer plant you need a lot of equipment to form your fertilizer production line. And a complete organic fertilizer production plant includes: fermentation compost turner, organic fertilizer crushing machine, fertilizer blending equipment, granulator machine, dryer and cooler machine, screening machine for organic fertilizer, conveying machines and so on. If you are planning to build fertilizer plant with an annual output of about 3,000 tons, then the following equipment may be suitable for you.
Tips:
Besides above fertilizer equipment, we can also provide you with the following things.
Other fertilizer equipment you can also choose. We have a lot of other organic fertilizer production equipment. And you can tell us your requirements, we can customize the machines for you.
Professionals customize the production line that suits you. The production line mentioned above is just one of many organic fertilizer production lines. You can talk with our professionals to have a suitable production line for your raw materials and space of your small-sized organic fertilizer company.
What raw materials can a small fertilizer plant be used to process?
What raw materials can handle in your small fertilizer plant? Using above organic fertilizer equipment, you can treat the most organic waste.
Livestock waste. The raw materials can be cow dung, pig manure, sheep manure, horse litter, etc.in your small fertilizer company.
Poultry manure. You will dispose chicken poop, duck manure, goose manure in the small-sized organic fertilizer plant.
Filter mud from sugar mill, biogas residue and straw sawdust and other organic waste can also appear in your fertilizer factory.
How to reduce the operating cost of small scale organic fertilizer plant?
This question should be considered when starting your organic fertilizer business. Operating your small organic fertilizer plant at a lower cost is actually optimizing your production process. So provide you with the following aspects for your reference.
Reduce the costs of transportation. The production plant cannot be far away from the raw material. You can build plant near a chicken or cow or other farms.
Choose suitable and energy-saving fertilizer equipment. The first thing you need make sure that purchase right fertilizer equipment. Carefully calculate the necessary yield and productivity rate. This will help you to buy right machines for production line. And investing in energy-efficient equipment is also a good method to run your business at lower costs. And SX's equipment meets the two points.
Invest in the modern equipment. You should invest modern machines to reduce your costs. Because the more automatic processes you can implement, the fewer employees you need to hire. For example, you can use the moving type compost turner to ferment raw materials, it can be controlled by one person.
Choose an equipment manufacturer (sx) with good after-sales service. A good fertilizer equipment manufacturer will provide you a good after-sales service, which will help you train your employees to operate the machine. It can ensure that your production can run normally and achieve economic profits quickly.
What are the development prospects of small organic fertilizer plant?
Judging from the current international development situation, your organic fertilizer business will develop very well now. The reasons are as follows:
More and more people are choosing organic food, which promotes the development of organic agriculture. The development of organic agriculture will inevitably drive the development of organic fertilizers.
Compared with the chemical fertilizer industry, competition in the organic fertilizer industry is not fierce. Because the organic fertilizer market is in the development stage and the competition is not fierce, this provides a good development space for your small organic fertilizer companies.
Although organic fertilizer prices are low, its profits are still high. As more and more entrepreneurs invest in the organic fertilizer industry, the price of organic fertilizer has dropped slightly. But its profit is still higher than that of chemical fertilizer. Generally speaking, the profit of organic fertilizer is 2-6 times that of chemical fertilizer. If you start with a small organic fertilizer factory, the cost will be lower.
In addition, there are other benefits of starting a small scale organic fertilizer plant which not be listed. All in all, small-sized organic fertilizer plant has good development prospects. If you have any questions, you can contact us.