5 t/h disc granulation plant in Korea.
Disc granulation plant can be used to process various raw materials, such as, animal manure, chemical raw materials, fertilizer powder and so on. And the granulation rate of the disc granulator can be 95%, and its price is low. So, it is widely used for granulating system.
What the granulation process in disc granulation plant?
The granulation line adopts the wet granulation method. And this type granulation machine has simple structure, you can operate it easily. When you feeding the raw materials into the batching machine, then they enter into mixer through the belt conveyors. Then, the uniformly mixed raw materials can be granulated using disc granulator.
The following is the case of our company, selling 5 TPH disc granulation line to Korea.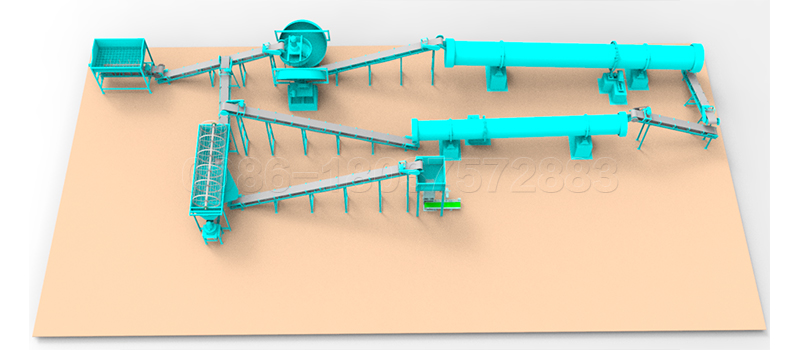 The Korean customers basic needs.
At the beginning, we learn about the basic information of our Korean customers. They told us:
Their raw materials are horse manure and pig manure.
They need the equipment that can process organic fertilizer with 5 t/h capacity.
And they have a granulation line with rotary drum granulator now. But the granulation rate is so low. So, they hope we can help them to solve this problem.
How to get a right granulating line for Korean clients?
After knowing our customers' needs, what can we offer our customers? How to help them solve the problem?
According to the raw materials and granulation rate, our salesman and professional engineer team help customers customize a granulation production line that meets customer needs. This disc granulation plant can make 5-8 tons of products particles per hour. And the granulation rate can be over 95%, which is about 15% higher than their previous granulation plant. And the granulation line includes dynamic batch machine, double shafts mixer, disc feeding machine, drum screening machine, chain crusher, pan granulator, belt conveyors and cyclone dust collector, ton packing machine. However, our Korean customers are still worried about the granulation effect of the disc granulator.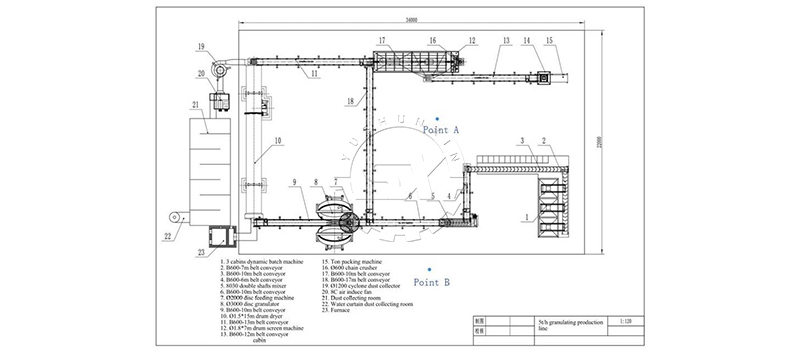 How do we ensure that our equipment can meet customer production needs?
As a fertilizer equipment manufacturer with 30 years of experience, we must not only ensure that our equipment is of good quality, but also that the equipment we provide to our customers can meet your production needs. Therefore, in order to dispel the doubts of Korean customers, we provide the following solutions.
Our professional teams can visit the site in Korea.
For understanding the customer's production site and needs in more detail, our professional business team can go to the customer's factory and work out the best plan with the customer.
Customers bring raw materials to our factory and discuss the details to get the best plan. This method is currently the favorite of customers. Because they can see the machine operation and the products obtained intuitively. Our Korean customers also adopted this plan. On August 9, they came to SX factory. They revised the drawings with our senior engineers and salesmen, finally they paid a deposit.
Another option is that we can write you a guarantee for the granulation rate of the disc granulator.
If you want to build a disc granulation plant or purchase other fertilizer equipment, you can visit to our factory and choose right machines for your plant.
What else can the disc granulation plant be used to produce?
In fact, the disc granulation plant is most used for organic fertilizer or compound fertilizer pelleting. You can use it to process fermented manure into organic fertilizer granules (such as cow manure, pig manure, horse manure, chicken manure and so on.). You can also use it produce bio-organic fertilizer pellets and granular compound fertilizer (For example, producing NPK fertilizer).
If you have other raw materials to produce fertilizer, you can consult us.