Manure pelletizer in Canada.
Manure pelletizer is the key equipment in the organic fertilizer production line. On 19th, Nov. 2020, our Canadian customer bought a chicken manure pellet machine for their small scale organic fertilizer plant. And they want use this machine produce organic fertilizer from compost with 2 t/h capacity. Because of their low budget, we designed flat die granulation machine for them. And this manure pelletizer can process fermented manure directly by batching, no drying and pulverizing. So, they can save some money.
In fact, we have various fertilizer pellet making machines for our customers. And, we introduced all manure granulator machines for Canadian customer at the beginning. Now, let's take a look at the different manure pellet equipment in our factory.
5 manure pellets machines for Canadian customers to choose.
At present, ShunXin machinery has 5 types pellet machines for organic fertilizer manufacturing plants. Whether the small-sized or large scale organic fertilizer manufacturing, we can meet your need. Just like our Canadian clients chose the one that suits them best. And the details of the five fertilizer granulators as followings for your reference.
Chicken manure pellet machine exported Canada.
Flat die manure pellet machine is which one purchased by Canadian customers. This type organic fertilizer granulator is a dry granulation machine. And it uses extrusion roller and molds to process manure organic fertilizer granules. What's more, using this manure pellet mill can maintain the internal nutrients during processing.
Disc manure pellet machine.
Our disc granulator is an ideal equipment for organic fertilizer production. And it adopts the wet granulation technology and its granulation rate is over 93%. In addition, you can freely control the particle size during the granulation process. So, if you are look for a cost-efficient fertilizer granulator with high granulation rate, the pan granulator will meet your needs.
Rotary manure pelletizer for sale.
New organic fertilizer granulator for poultry manure pelletizing.
This machine uses high-speed mechanical stirring power and the generated aerodynamic force to make fine powdery materials into balls. And granulation yield rate is as high as 90%. Moreover, the produced particles are uniform and have high hardness.
Rotary drum stirring manure granulation equipment.
This is a two-in-one granulator, which combines two granulation technologies of drum granulator and stirring tooth granulator. And the combination of these two granulation methods makes the granules produced have a higher pelletizing rate, and the granules are more beautiful, while saving energy and high efficiency.
What is the complete process for pelletizing manure?
How to process manure granular fertilizer using our machines? In Canada customers plant, the simple manure granulation process main include manure blending, granulating, screening and packing.
But if you use other manure pellet equipment, you should refer to the complete pelletizing process below.
First, you should use a fertilizer grinder to crush large pieces of manure. Then, you need mix all the granulation materials evenly (in order to improve the fertilizer efficiency of organic fertilizer, you can add some other fertilizer materials.). Next, the raw materials are fed into the pellet machine through a belt conveyor. And the fertilizer particles from the granulator pass through a rotary screening machine to sieve out the unqualified particles. And the unqualified particles return to the crusher for re-granulation. After drying and cooling, you can get good commercial manure fertilizer pellets. Finally, you can use an automatic packaging scale to pack qualified manure pellets for sale.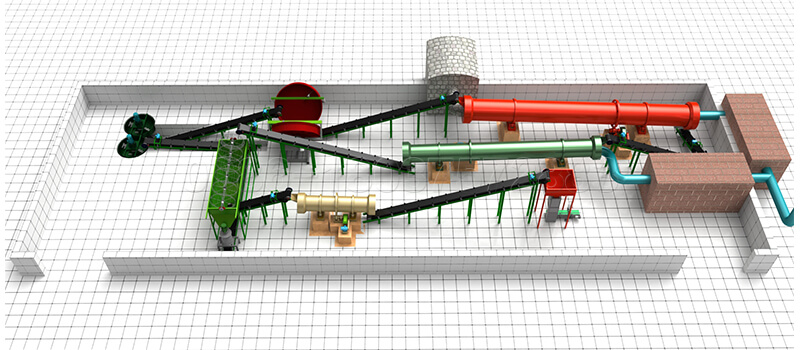 Wide application of manure pellet equipment in Canada.
Our manure pellet machine in Canada not only can be used for organic fertilizer production, but also can be used for processing poultry feed. In addition, you can use the other 4 types granulators to dispose various animal manure or produce compound fertilizer. Especially, the pan granulator and rotary drum granulator are our best-selling machines.
If you want to get a right manure pellet machine with factory price, you can contact us.